The Role of Businesses in the Recovery of the Economy of the Philippines
By Alyanna Therese Tagamolila
What can businesses big or small do to help our country?
The Philippines, like most countries took a hit when the COVID-19 virus caused a worldwide epidemic. Whole countries were forced to shut down as schools closed, face to face access to goods and services were prohibited and strict community quarantines were implemented. COVID-19 caused hundreds of thousands of deaths as public health were compromised, and our country has yet to contain it. However, outside of our health sector, the Philippine Economy is currently suffering a depression that is affecting almost all Filipino Households.
Re-empowering Filipino Households
Businesses in this time of economic depression play a huge part in making sure the Filipino Household is well taken care of. With a lot riding on compassion and empathy in these hard times, a business is only as strong as its community is. Our role as business owners is to be there for our community during these hard times as well as ensuring continuation of our operations – keeping our business alive to make sure we can still deliver products/services. There are a lot of ways to do this but if you are feeling overwhelmed with everything that's happening – which is totally understandable, don't beat yourself up — here's a few ways for you to ensure you are doing your part for your community:
1. Listen to your Community

Whether you are an online store business owner or have a physical store, you can think of avenues to receive feedback from your community and to try to cater to their extra needs during this pandemic. These needs can be in the form of adding delivery services through third party apps like Lalamove, Grab, etc., adding GCash and other payment methods or simply changing the schedule of your operating hours to suit your community's current quarantine status. By making these small adjustments to your operational processes you get to help your customers and their families out by still ensuring they have access to the product or service you offer in this time of scarcity.
2. Continuation of Services
As much as possible, the continuation of the service or product you offer will help stimulate economic flow in your local community and allow your customers to still have access to goods and necessities. With the negative impact of COVID-19 to our personal lives, it is understandable for businesses to choose to close. However, if you could continue services by adjusting costs, limiting the scope of your service/product list, or delving into other niche markets in order to survive and continue operations – then doing so would be the socially responsible thing to do! Remember, should you need help with ensuring your business stays afloat this pandemic, RBM Consultancy is here to lend a hand.
3. Register to Vote and encourage your customers and your community to do the same
There is only so much that a household, a small business owner and community resilience can do. In the end, what each and every Filipino should remember is that first and foremost, our government — the Philippine Government — is tasked to oversee the welfare of our Filipino people. Our part as citizens is to elect those who can do this, put into position those we know can work towards and effectively better the state of each Filipino household. As citizens, the biggest thing we can do to positively affect and make a change in our country is to vote wisely; we still have time until 2022, let's make it count. According to the Commission on Elections, we have only 22 days remaining till the end ov the voter registration period.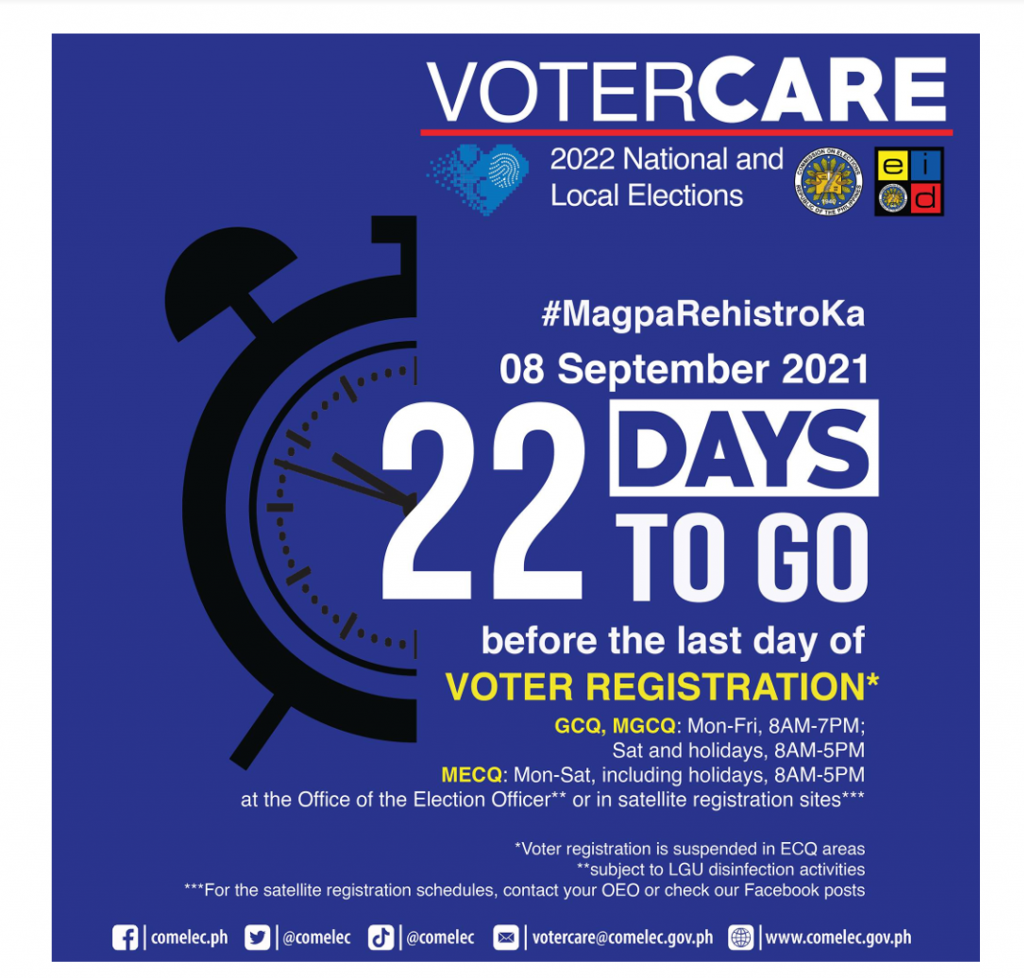 (Photo courtesy of Commission on Elections, posted on their Facebook Page on September 8, 2021)
RBM Consultancy is here to remind businesses and business owners that we have a part in ensuring that the people around us are taken care of. With this, let's use our voices and our establishments as avenues for change, be more compassionate and be flexible towards what your consumers need, have strength to continue with operations and lastly, vote – let's use it to ensure that the Filipino people get the leaders we deserve this coming 2022. Together, let us re-empower each and every Filipino Household.
Register to vote here: https://irehistro.comelec.gov.ph/cef1